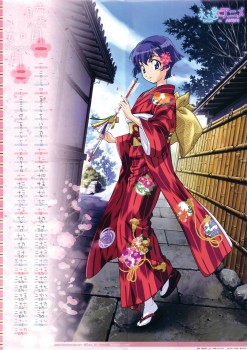 Quote:
Format : AVI
Format/Info : Audio Video Interleave
File size : 185 MiB
Duration : 23mn 9s
Overall bit rate : 1 117 Kbps
Movie name : Ai Yori Aoshi - Episode 1 ver.2
Director : #[Only registered and activated users can see links. ]
Subject : Ai Yori Aoshi - Episode 1 ver.2
Writing application : Nandub v1.0rc2
Writing library : Nandub build 1853/release
Copyright : #[Only registered and activated users can see links. ]

Video
ID : 0
Format : MPEG-4 Visual
Codec ID : DIV3
Codec ID/Hint : DivX 3 Low
Duration : 23mn 9s
Bit rate : 984 Kbps
Width : 640 pixels
Height : 480 pixels
Display aspect ratio : 4:3
Frame rate : 23.976 fps
Color space : YUV
Chroma subsampling : 4:2:0
Bit depth : 8 bits
Compression mode : Lossy
Bits/(Pixel*Frame) : 0.134
Stream size : 163 MiB (88%)

Audio
ID : 1
Format : MPEG Audio
Format version : Version 1
Format profile : Layer 3
Mode : Joint stereo
Mode extension : MS Stereo
Codec ID : 55
Codec ID/Hint : MP3
Duration : 23mn 9s
Bit rate mode : Constant
Bit rate : 128 Kbps
Channel(s) : 2 channels
Sampling rate : 48.0 KHz
Compression mode : Lossy
Stream size : 21.2 MiB (11%)
Alignment : Split accross interleaves
Interleave, duration : 500 ms (11.99 video frames)
Interleave, preload duration : 500 ms

Quote:
Dawno, dawno temu w Japonii dwa wielkie rody, Sakuraba i Hanabishi, postanowiły połączyć swoje dzieci małżeństwem. Sami zainteresowani widzieli się tylko przelotem, podczas negocjacji. To jednak wystarczyło, by mała Aoi pokochała Kaoru całym sercem i poświęciła swoje życie temu, by stać się odpowiednią żoną dla niego. Mijały lata i cel był coraz bliższy, aż nagle ojciec oznajmił jej, że umowa została zerwana.

Kaoru uciekł od despotycznego dziadka i od kilku lat mieszka i utrzymuje się sam. Pewnego dnia, wracając do domu, trafia na stacji na zagubioną dziewczynę w kimonie. Nieznajoma mówi, że chciałaby odszukać pewną drogą jej sercu osobę. Ostatnio widziała ją bardzo dawno temu, a na pamiątkę tego spotkania ma jedno zdjęcie. Na fotografii Kaoru ze zdumieniem rozpoznaje siebie i swoją małą narzeczoną, która właśnie dorosła i przyjechała, by go poślubić.
Gatunki:
komedia, romans, okruchy życia, harem
Jezyk:
Japoński
Napisy:
Angielskie
Quote:
Kaoru Hanabishi, a college student who lives alone, met a beautiful but bewildered girl dressed in kimono at train station. He volunteered to guide her way to the address she was looking for, which looked like in his neighborhood but turned out to be an empty lot. Not knowing what to do next, Kaoru invited the devastated girl to his apartment and asked for additional clue -- a photo with two children whom Kaoru immediately identified as himself and Aoi Sakuraba, his childhood friend. It turned out that the girl in front of him is Aoi Sakuraba herself, his betrothed fiancée who came all the way to Tokyo to marry him. Her revelation was not only surprising but also reminded the deepest part of Kaoru's memory for why he left the Hanabishi family in the first place.
Genres:
comedy, romance, slice of life, harem
Languages:
Japanese
Subbing:
English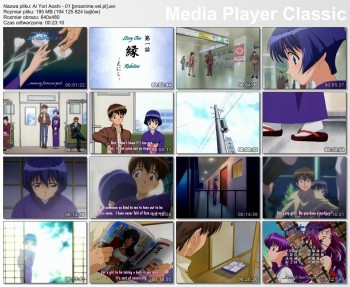 Code:
http://catshare.net/TaslHHdfzv48Jfim/Ai Yori Aoshi - 01 [proanime.vel.pl].avi
http://catshare.net/lnuSG11QePcTw9cg/Ai Yori Aoshi - 02 [proanime.vel.pl].avi
http://catshare.net/bKOodvHZh0mkLPgb/Ai Yori Aoshi - 03 [proanime.vel.pl].avi
http://catshare.net/j7HpCY4DX31usZuj/Ai Yori Aoshi - 04 [proanime.vel.pl].avi
http://catshare.net/rv189sOmOkhiCF2C/Ai Yori Aoshi - 05 [proanime.vel.pl].avi
http://catshare.net/vS6CLc23Qa1bp99I/Ai Yori Aoshi - 06 [proanime.vel.pl].avi
http://catshare.net/j1emvtv0UCUaZm3H/Ai Yori Aoshi - 07 [proanime.vel.pl].avi
http://catshare.net/d9y620xWFinpqV8i/Ai Yori Aoshi - 07 [proanime.vel.pl].avi
http://catshare.net/ilraiyyUrXfz4TMa/Ai Yori Aoshi - 08 [proanime.vel.pl].avi
http://catshare.net/2AYYEzSCHWKMnRxN/Ai Yori Aoshi - 09 [proanime.vel.pl].avi
http://catshare.net/2jF1EBdhoaoOJ1JU/Ai Yori Aoshi - 10 [proanime.vel.pl].avi
http://catshare.net/PDbeQjd4qOxg5m1L/Ai Yori Aoshi - 11 [proanime.vel.pl].avi
http://catshare.net/TRxFtXZcQorD33sA/Ai Yori Aoshi - 12 [proanime.vel.pl].avi
http://catshare.net/tUbjjZLbMLLdAjOA/Ai Yori Aoshi - 13 [proanime.vel.pl].avi
http://catshare.net/5WkoQcGj5sXOnVNl/Ai Yori Aoshi - 14 [proanime.vel.pl].avi
http://catshare.net/T3PQXkvAfCg0O0sh/Ai Yori Aoshi - 15 [proanime.vel.pl].avi
http://catshare.net/i7jPIbBn2nIMUBRL/Ai Yori Aoshi - 16 [proanime.vel.pl].avi
http://catshare.net/GVcb3aMPgFDL1Bdu/Ai Yori Aoshi - 17 [proanime.vel.pl].avi
http://catshare.net/T0Vq4FSeaIcWje4I/Ai Yori Aoshi - 18 [proanime.vel.pl].avi
http://catshare.net/5CVnzzLUlBVa6tDr/Ai Yori Aoshi - 19 [proanime.vel.pl].avi
http://catshare.net/9kT1bcPAzraZo3rL/Ai Yori Aoshi - 20 [proanime.vel.pl].avi
http://catshare.net/YKZcrvECWglm5ihH/Ai Yori Aoshi - 21 [proanime.vel.pl].avi
http://catshare.net/5nefdIvOLXUxC4wB/Ai Yori Aoshi - 22 [proanime.vel.pl].avi
http://catshare.net/Ow49a1SFxeGVS0Gx/Ai Yori Aoshi - 23 [proanime.vel.pl].avi
http://catshare.net/wnkm2rlFpEjqsCTz/Ai Yori Aoshi - 24 [proanime.vel.pl].avi
http://catshare.net/y65EpjGCLYO4bQnn/Ai Yori Aoshi - Special [proanime.vel.pl].avi