Kidou Tenshi Angelic Layer | Battle Doll Angelic Layer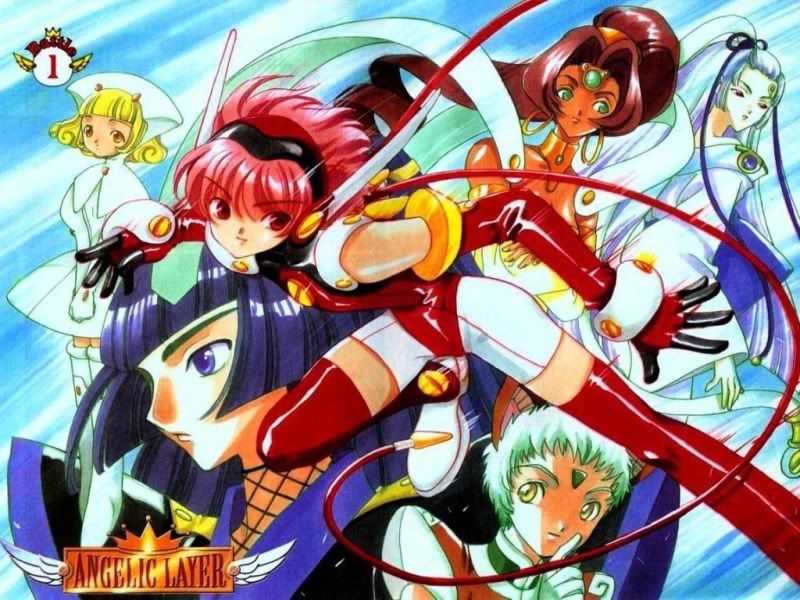 SUMMARY
~12-year-old Suzuhara Misaki had just traveled to Tokyo to start 6th Grade. By chance, she comes across a merchandising phenomenon known as "Angelic Layer", a nation wide gaming competition utilizing a new technology where players customize dolls ("Angels") and battle them against other competitors in special arenas ("Layers"). Shortly after, Misaki meets a strange man known only as Icchan who gets her involved in the games. He seems convinced Misaki has the superior potential to become one of the greatest "Angelic Layer" competitors of all time. Even as a newbie, Misaki shows advanced skills as she starts entering her first Angelic Layer tournaments. Throughout this fast-paced competition, with new friends to meet and new enemies to defeat, the best time of Misaki's life seems to be just beginning... but the Ultimate Game of Angelic Layer isn't only a game for such a young girl, and Misaki will have face and overcome many different challenges and battle against overwhelming odds.
SHOW INFO
Categories: Action, Comedy, Coming of Age, Plot Continuity, Proxy Battle, School Life, Shounen
Creator: CLAMP
Director: Nishikiori Hiroshi
Animation: BONES
FILE INFO
Group: Kira-Fansub
Subtitles: English Softsubs
Subtitle Source: DVD R1 (slightly modified)
Runtime: 26eps. x 25mins.
Video: 1280x960 h264/AVC (~1,800-2,500 kBit/s) 23.976 fps
Video Source: BluRay (Share Raws Encoded by QTS)
Audio: 2.0 Stereo AAC (~200-300 kBit/s)
Uploaded.to
Code:
Episode 01: http://ul.to/j0pg894i
Episode 02: http://ul.to/jbz112mr
Episode 03: http://ul.to/x2ozodr1
Episode 04: http://ul.to/hh65zzht
Episode 05: http://ul.to/h9cns4u0
Episode 06: http://ul.to/2fvn6lvg
Episode 07: http://ul.to/9p1tae2j
Episode 08: http://ul.to/52knz3wt
Episode 09: http://ul.to/4aqw753y
Episode 10: http://ul.to/q220nawo
Episode 11: http://ul.to/hnbvd8tu
Episode 12: http://ul.to/4iqujqxd
Episode 13: http://ul.to/zoorbwfp
Episode 14: http://ul.to/kshvgwwg
Episode 15: http://ul.to/nwqviusi
Episode 16: http://ul.to/kbryu6ov
Episode 17: http://ul.to/1jtx621g
Episode 18: http://ul.to/awyx4k72
Episode 19: http://ul.to/x87oshhq
Episode 20: http://ul.to/s5dlk56k
Episode 21: http://ul.to/elejlyir
Episode 22: http://ul.to/c5ne0ii8
Episode 23: http://ul.to/0xi6cakh
Episode 24: http://ul.to/3lmd91rh
Episode 25: http://ul.to/t3qxowoy
Episode 26: http://ul.to/ikyan90v